Educating Your Staff on the Process and Techniques to Lead Your Organization Through Your HRO Transformation.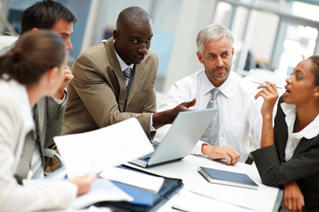 The High Reliability Institute
HRS Consulting, Inc. established The High Reliability Institute (HRI) to promulgate High Reliability Organization's (HRO's) mindset, principles, and practices. Highly reliable organizations are often defined as organizations that operate in hazardous environments, where small failures can result in catastrophic harm but they experience fewer than expect errors, failures, and harm.
The intent and purpose of The High Reliability Institute is focused on helping organizations embark on the journey of transition high-reliability behaviors to reduce the risk and incident of significant failure and harm. One of the "industries" that HRS and the Institute specialize in is healthcare. Healthcare organizations and related industries exemplify highly complex, dynamic, unpredictable, and in some cases hazardous conditions.
The High Reliability Institute Training Program:
 HRI offers seminars and training at several locations for executives and other healthcare leaders to help them understand and hone the skills that are required for the HRO leadership to effectively facilitate the transition of HRO practices in their organizations.
The High Reliability Institute Training Programs:
HRI, HRO Certification Program: HRI educates. trains and certifies High Reliability Practitioners and High Reliability Organizers to support individual and organization with reliability.
The HRI also provides educational offerings for healthcare professionals in quality, risk management and clinical areas to develop their HRO knowledge and capabilities to help themselves and others in their organization to transition to High Reliability practices.
The High Reliability Institute
Mission, Vision, and Values
MISSION: To transform the spirit and practices of our customers to achieve a High Reliability Organization culture that thrives in the Violent, Uncertain, Complex, Ambiguous and Traumatic environments (VUCA-T).
VISION: To enable our customers to consistently deliver sustainable improvements that they can confidently build upon to advance their organization's performance to High Reliability Organization status.
VALUES: We will help our customers by:
Recognizing that High Reliability is a mindset that requires complete vertical and horizontal participation
Always maintaining the core values of HROs while looking for the best way to adapt these values to the customer's organization
Applying our HRO transition experiences to facilitate and accelerate our customer's progress
Building in capabilities and capacities for autonomous continuous improvement, new enhancements, innovations, and sustainability